Have you chosen christening outfits for your little baby? It's a special day in the little life of your baby boy and of course you want the star of the day to shine. He's going to have so many friends and relatives doting on him, after all. With these outfits, your baby boy will be comfy and christening ready. There are a large variety of styles and materials to choose from, so go ahead and browse keeping your tastes and your baby's needs in mind to find the perfect baptism day outfit.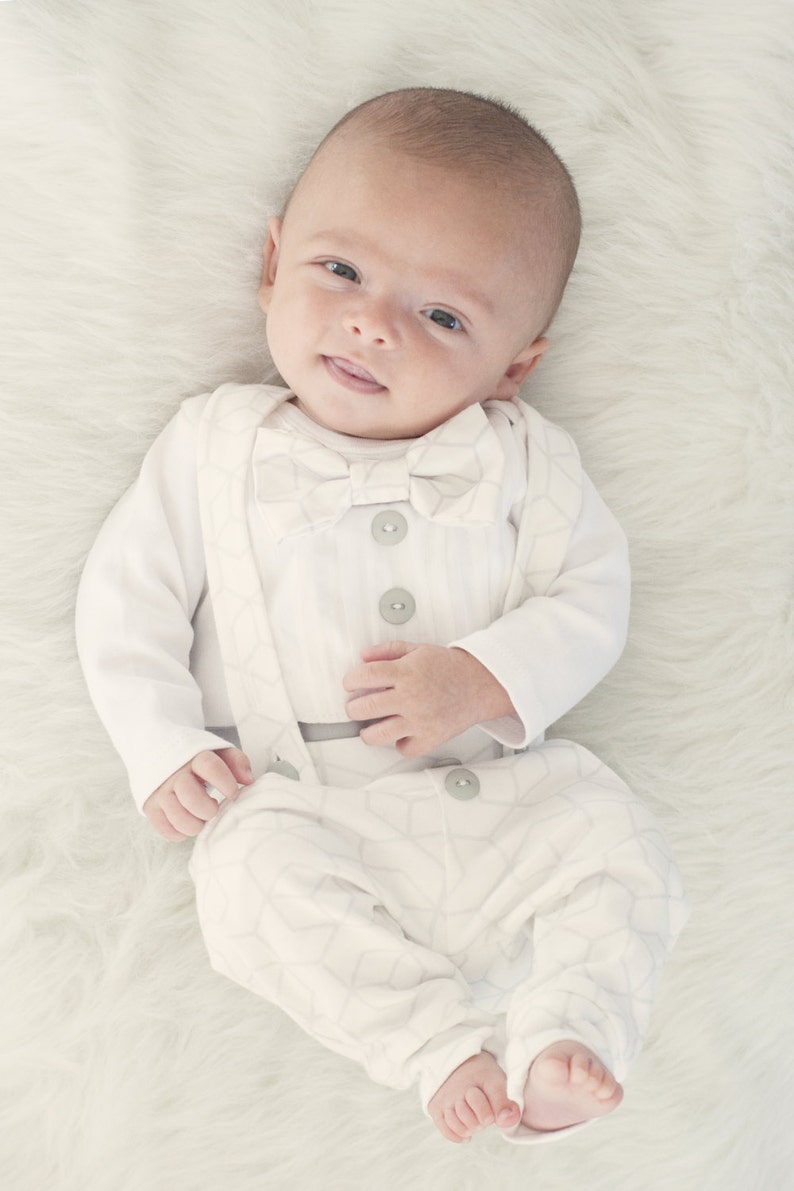 BebeCoutureLLC outfit
This handmade organic cotton tuxedo comes with a super cute bowtie and suspenders for your dapper boy. It is as sure to be comfy as it is stylish. It is a complete outfit in one as it is a onesie made to look like a tuxedo, which is possibly the best concept ever!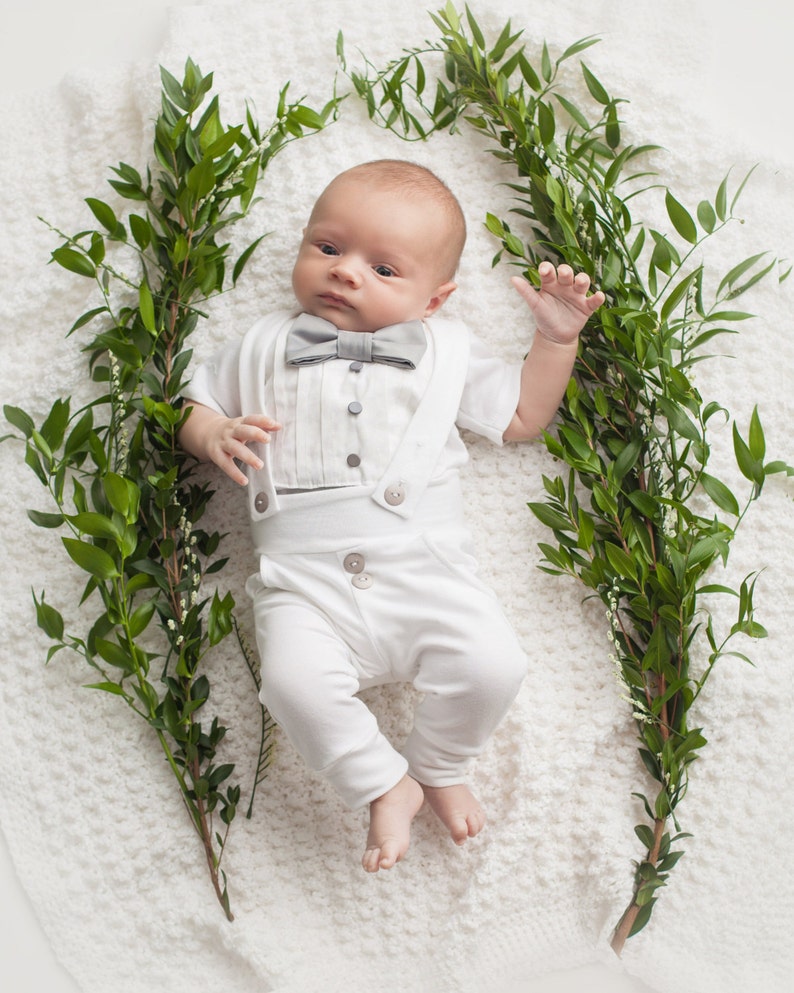 BebeCoutureLLC romper
This stylish white jersey knit fabric with satin ribbon, buttons, and cotton fabric lining is a great bodysuit and leggings set for the big day. It is handmade and is available in both long and short sleeve styles because mama knows what's best for her little boy.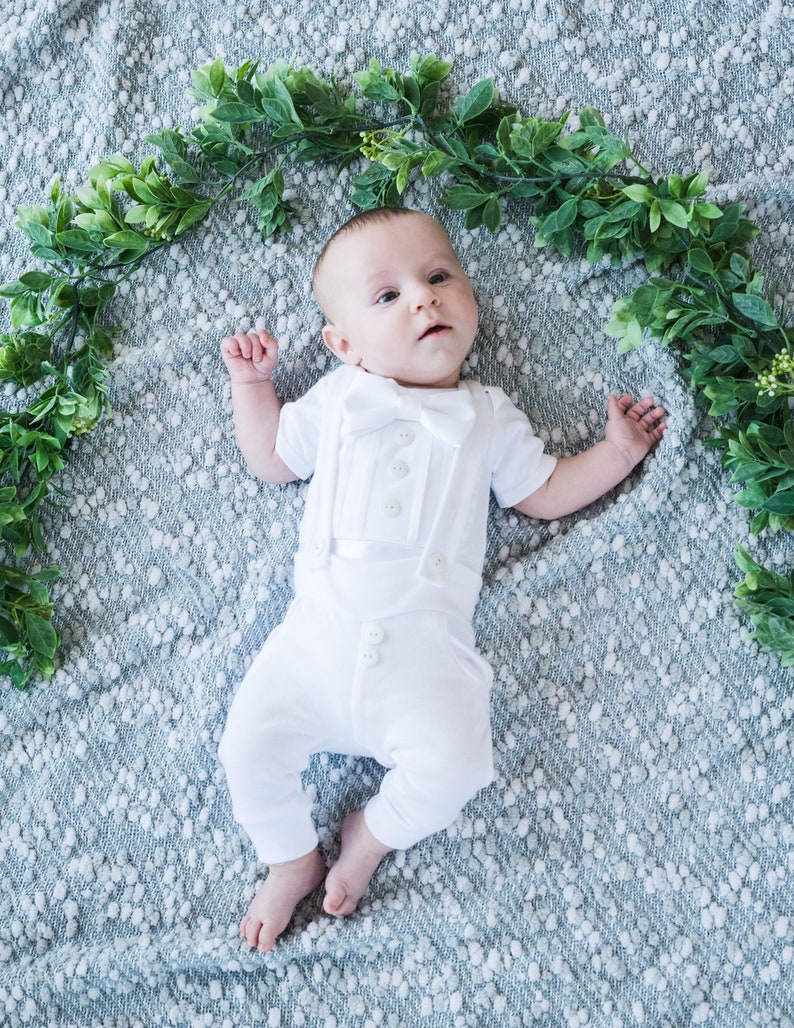 BebeCoutureLLC
Made with white jersey knit fabric and an added satin bow tie and cotton fabric lining, this piece is a great bodysuit and comes with leggings as a set. Available in two styles with long and short sleeves that can be chosen, it is also handmade.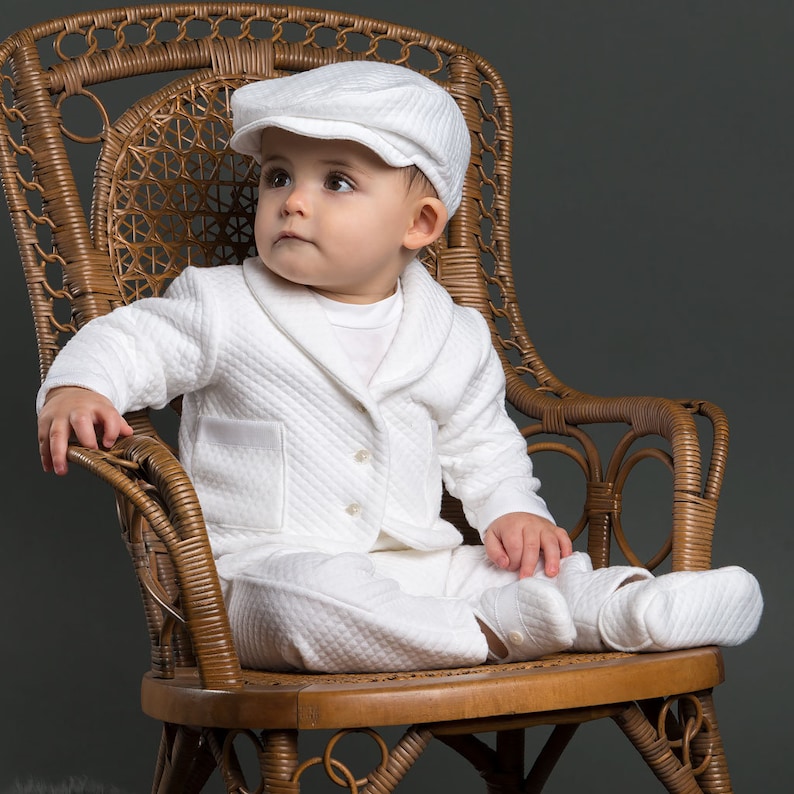 BabyBeauandBelle outfit
A super-soft textured cotton three-piece stylish christening outfit, this is a set that comes with a suit, hat, booties, and the full bundle. Each item in the set is handmade by the seller, and makes for an adorable outfit.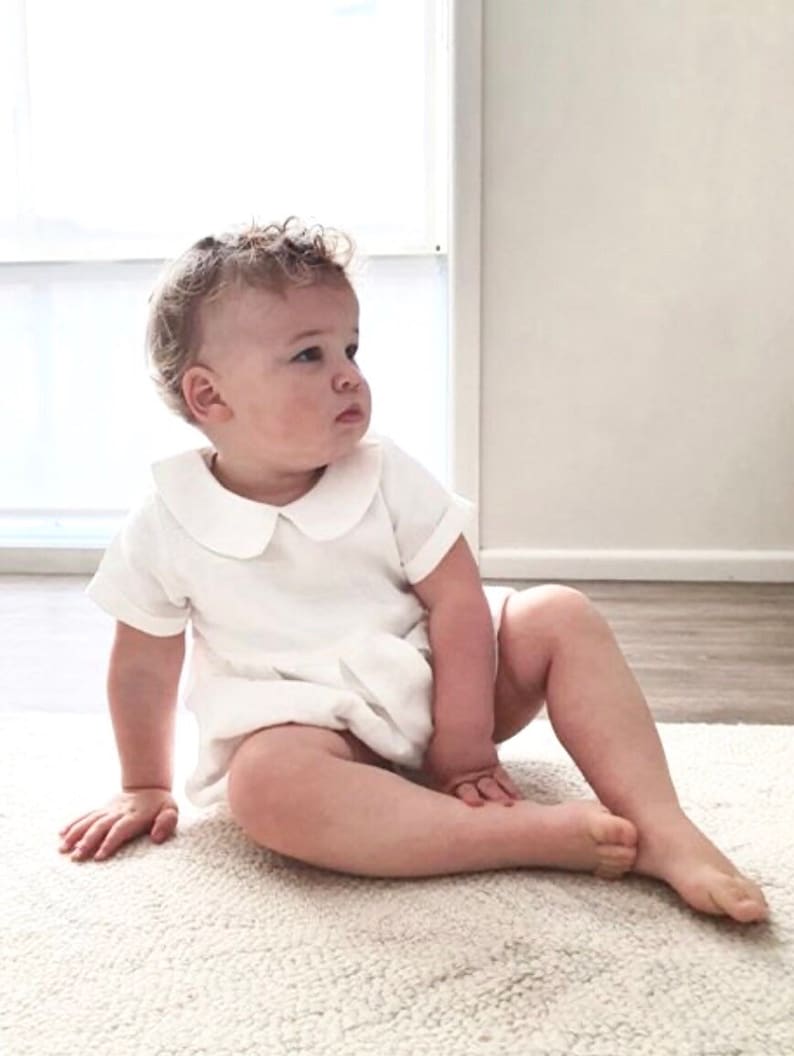 RaphaelJr outfit
This adorable white linen romper features a perfect Peter Pan collar and comes with optional shoes and a hat to complete the look. The seller hand makes the orders and takes requests for personalising the colours of shoes and hat as well as sleeve styles and embroidery.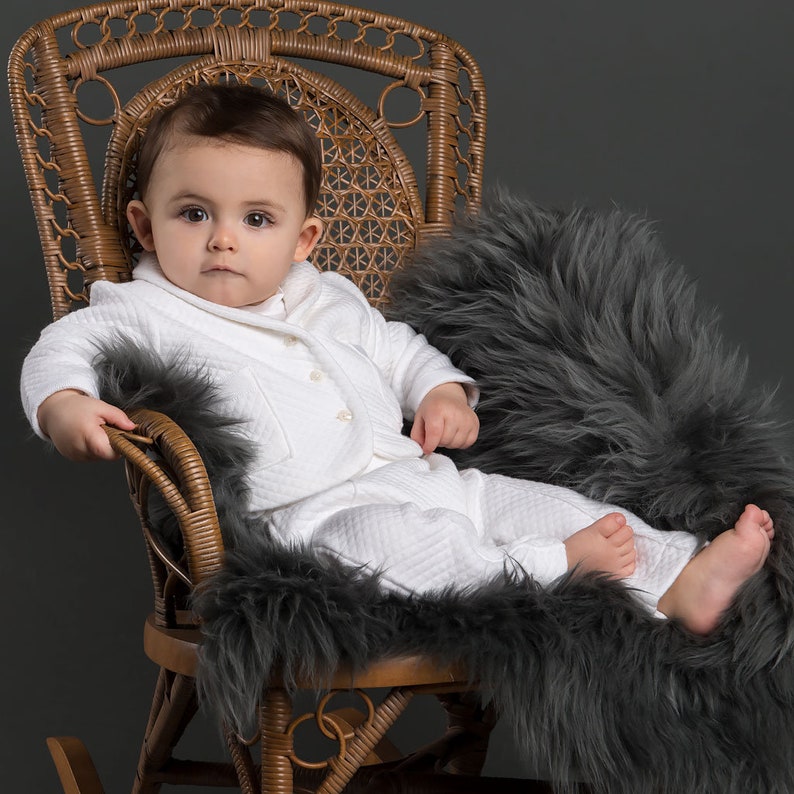 BabyBeauandBelle set
This set, called the Elijah set, is made of soft textured cotton and is a three-piece set that comes with a suit, hat, booties, and the whole set. It is handmade by the seller, but the main question is, who doesn't love to see their baby in little bootie shoes?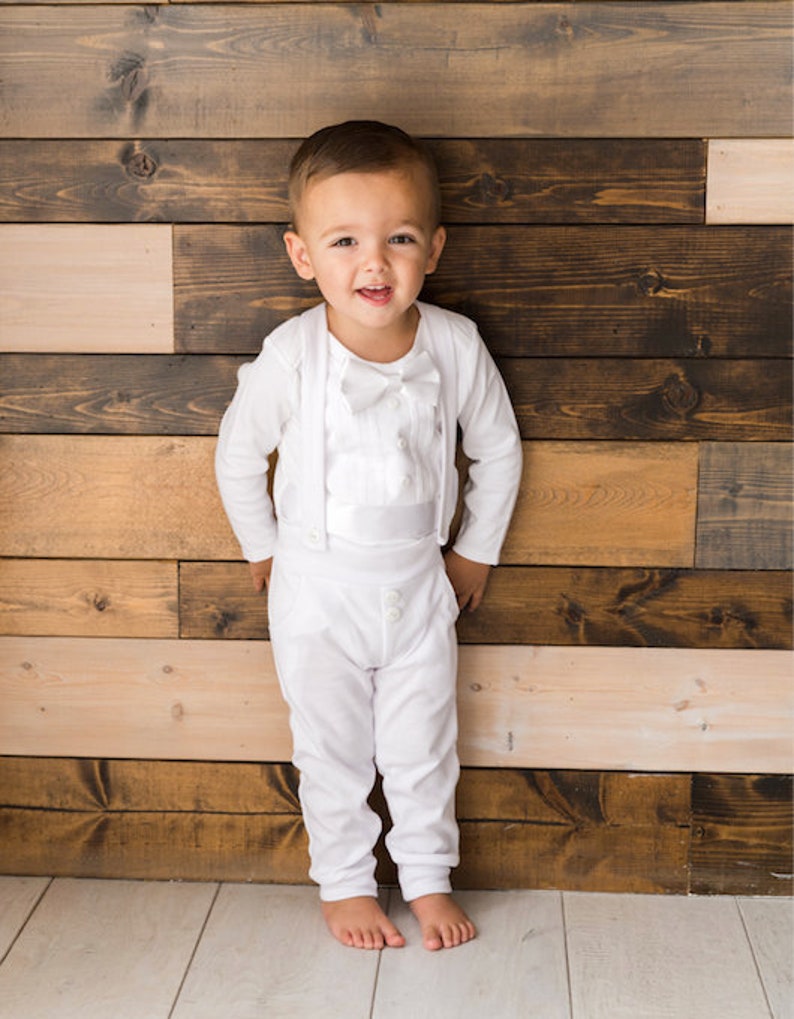 BebeCoutureLLC tuxedo
This full white tuxedo bodysuit and leggings outfit is handmade and features a cumberbund sash and a bowtie to wrap up an elegant outfit. With over 7000 sales and great reviews, it is available in sizes for toddlers up to the age of 24 months.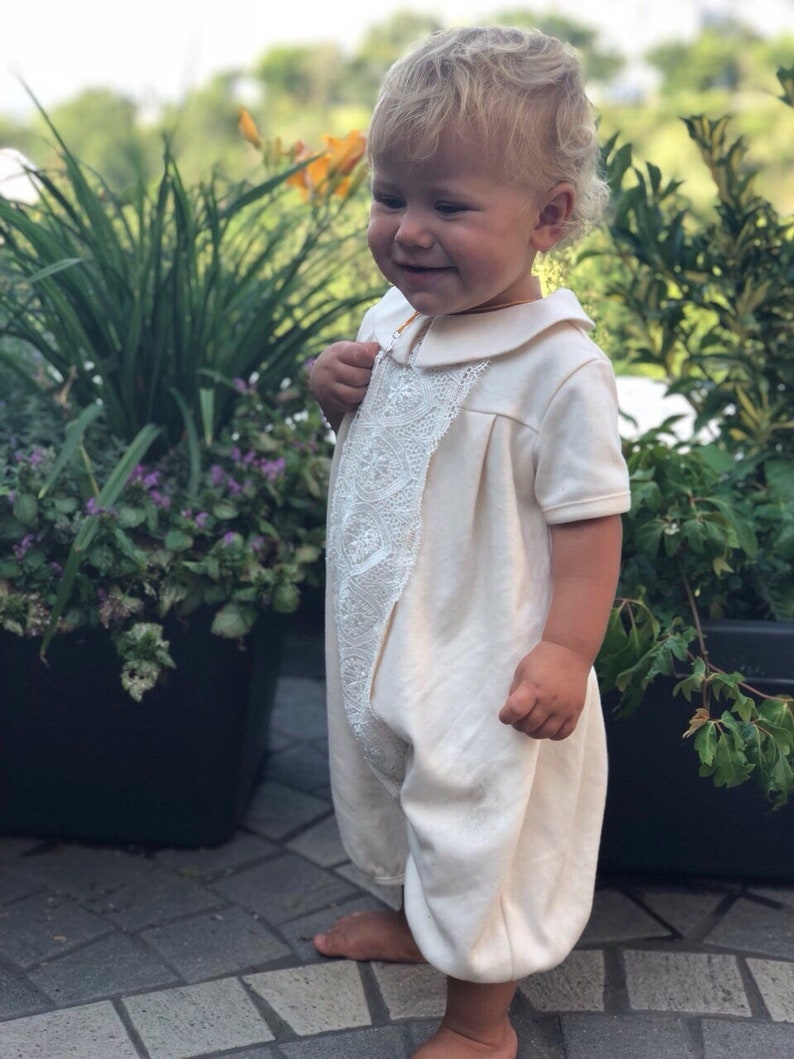 BattesimoLove outfit
Handmade with pure soft cotton with a lace overlay, this ivory-colored onesie style outfit is extremely adorable, quirky, and unique in its design and will make for a great outfit for a special memorable day.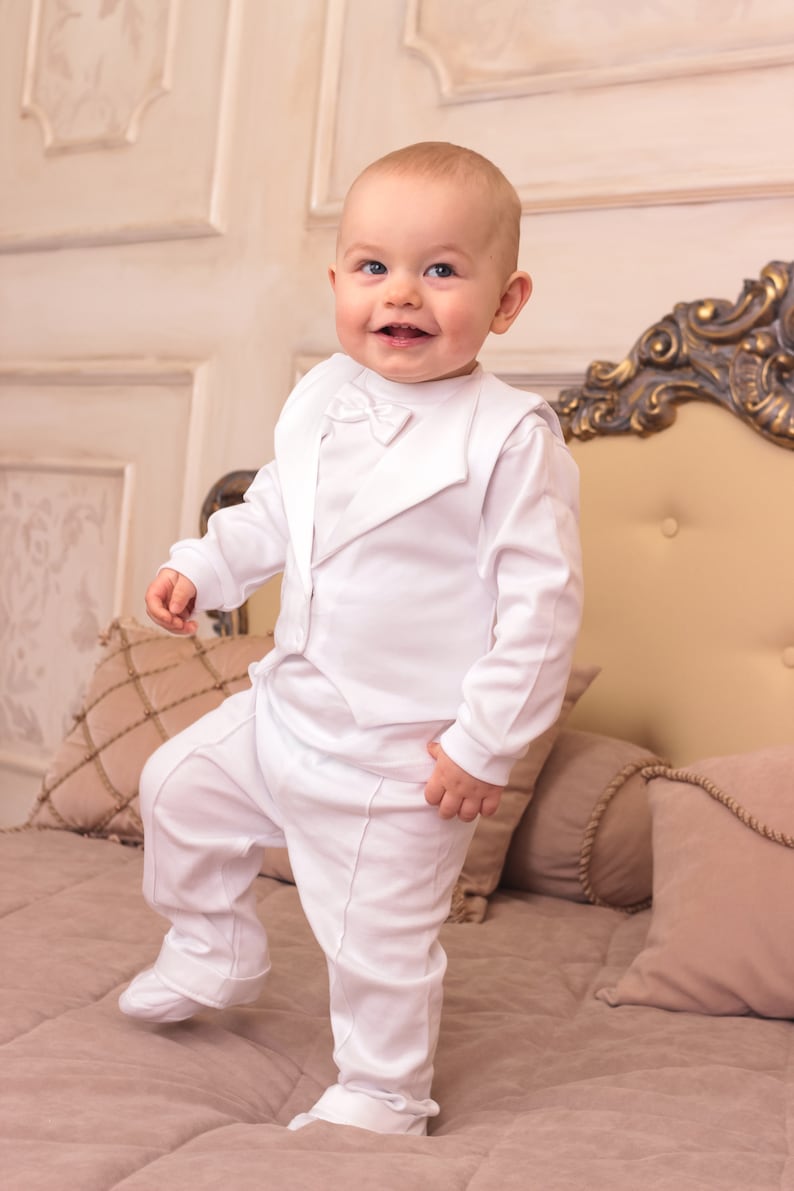 WhiteBabyClothes suit
This handmade, cotton, three-piece suit is such a dapper look for your baby boy. You have the option of personalising it with your baby's initials or with other embroidery work Yes, embroidery! .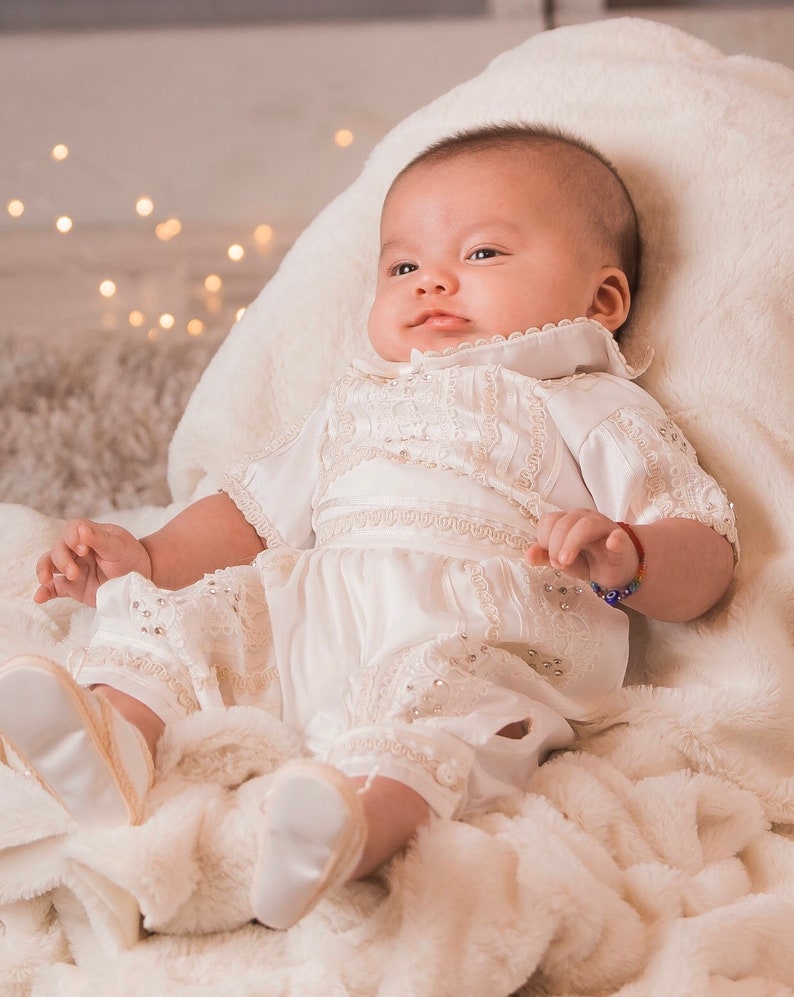 CaelumCouture set
Made of 100% Polyester Shantung and includes a shirt, pants, stole, and bow tie. It has snaps on its sleeves, an elastic waistband, and is mid-calf length. It is available in ivory and white and will have your baby looking baptism ready instantly.
How angelic is your beautiful baby boy going to look in these outfits! A special day is always an exciting thing to prepare for, even if you get a little nervous in the days leading up to it. However, the pre-event jitters should not take away from the fun of shopping for it. Sending love and blessing to you and your family on this special day and hoping that these recommendations helped you find that perfect outfit that you were looking for.